Therapeutic Yoga is offered both individually and in a group format at Emerge. Our individual sessions are tailored to meet your particular needs and allow deeper one-on-one work with a therapist and yoga teacher. Our group offerings allow you to connect with others who may struggle in similar ways, which often makes people feel less alone and reduces shame. All of our yoga offerings (both individual and group) are led by psychotherapists and yoga teachers, with advanced training in trauma.
Yoga groups focus on incorporation of movement and development of body awareness.
Often trauma leaves people disconnected from their bodies, and at times thus disconnected from themselves. Research has found that intentional movement, specifically yoga can help reconnect people with sensation and their bodies, and ultimately themselves.
All of our groups are trauma sensitive, but we have specific groups for people who have struggled with various types of trauma, from developmental trauma to physical/sexual assault/abuse. Our groups address the impact of dealing with trauma from a multilayered approach, including psychology, yoga, and mindfulness, in order to treat the whole person. The environment and structure of the group is designed to increase feelings of safety and build trust. People can safely explore difficult emotions or sensations, and begin to process them. We work collaboratively as a team to ensure the best possible treatment.
Diagnosis specific yoga groups
We also have groups for specific diagnoses, e.g. eating disorders, anxiety, depression, or body image concerns, are part movement or art and part psychotherapy process group. We have found, and research supports that in order to process complex feelings and memories, the body needs to be relaxed enough, and the fight flight response turned off. We call this being within the window of tolerance. If this is not achieved the mind/body are in hyperarousal or hypoarousal and the mind cannot process thought. For more on this click here.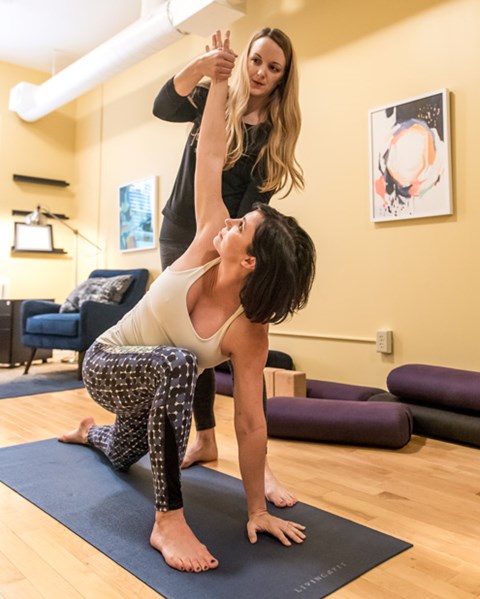 Moving through Shame: A yoga-based therapy group for managing shame
Mondays from 7:15-8:45pm
5-week session (New group starting Fall 2018)
Led by: Elizabeth Vogt & Jamie Larson Jones
Cost: $60 per group (Sliding scale available, based on income)
Trauma Sensitive Yoga: A trauma informed yoga class in a safe environment
Fridays from 10-11am
Ongoing Group
Led by: Jamie Larson Jones
Intake & 6-week commitment required
Cost: $30 per class (Registration for a minimum of 6 sessions is required to promote safety and build trust in the group environment)
New class starting April 6th
Calm connection: A yoga-based therapy group for parents and kids
Thursdays from 7-8pm
4 week group (New group starting Fall 2018)
For kids 6 to 12 years and their caregiver
Led by: Sherry Walling
Calm from the Inside Out: A yoga-based therapy group for stress and anxiety
Thursdays from 7:15-8:30pm
4-week session (New group starting Fall 2018)
Led by: Sherry Walling
Cost: $50 per group
All groups are eligible for reimbursement using
out-of-network benefits.
If you are interested in a Fall group click on the register link (above) OR Contact Us to learn more or with questions.